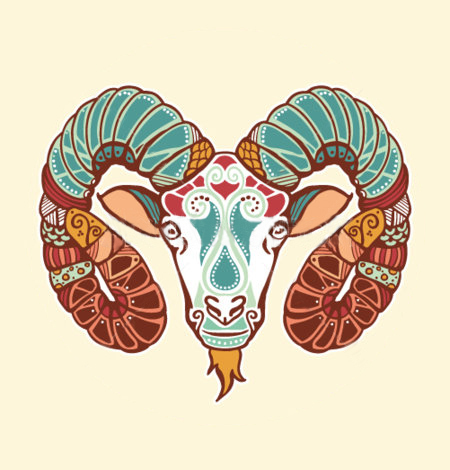 Aries
(Mesha)
Overview: The month of February mark a ruddy period for Aries. The cosmic powers present you with decent mental abilities, & a versatile individual. Your multitasking abilities will prosper this month, accounting for greater success than previous periods. The period after 13th Feb 2018 should see your kids in stable health. Students are likely to live up to parents' expectations & shine in most of the exams in this month. From 6th Feb onwards, a monetary beneficial period is likely to begin, where you will experience an improved business sense bringing in additional profits for you.

Your business associates are expected to get productive open doors for good financial success in this period. Your demeanor is a blend of energy, dynamism & eagerness. You will gain greater knowledge this month and your high energy levels contribute to further your areas of expertise. Your spirituality is likely to get a push, and you may embark on related journeys as well, in this period. Business trips, if undertaken, are expected to bear positive fruits. Comprehensively, a beneficial month awaits you ahead.

Career: Aries, the monthly horoscope for career highlights improved stability in the forthcoming days. If you adapt as per the situation, you will be able to sail through this period even under adverse conditions and against all odds.Your current stature at work will leave no scope for thoughts of job change. Maintaining strategic relations with your superiors at work can do wonders for you. You are likely to inspire others with your work. Pay raise could occur amid this period. New ventures, if undertaken, are likely to fetch fruity benefits. After 15th Feb 2018, business is expected to see considerable improvements & bring in financial profits. Your business accomplices can prove their usefulness by roping in gains after 6th Feb.

Career Advice- Mars holds a strong position in your chart, & can make your irate in this period. Keep a controlled demeanor & utilize your enthusiasm to accomplish your objectives & goals. Avoid arguments at work place.

Love and Marriage: As per the monthly reading, the romantic front appears average in February for you, Aries. Your anger can fuel undesired conflicts with your partner in this period. Your companion's spiritual temperament in this period opposes your enthusiasm. Thus, adjustments need to be made by you so that you both are on the same page together. Indications of fiscal profits pouring in with the help of your spouse are clearly on the cards. Romance will also be available in plenty for you. Thus, keeping your anger in check can turn this period into a garden of love for married couples.

Singles may indulge in new associations after 6th Feb, as the period looks favorable for forming new ties. Progeny prospects are likely to progress without many worries. Still, expecting couples are advised to remain cautious and take proper care.

Money and Finance: The monthly horoscope looks good for finances with plenty of gains depicted on the cards for you. Period after 6th Feb 2018 profoundly appears beneficial, as you may watch the number of sources of income rise in this time. Stock market transactions are also likely to favor you with positive outcomes after 13th Feb. Spouse is likely to spend lavishly, but will most likely become the reason for monetary gains as well, this month. Cash flow is expected to remain good and will mostly improve your overall financial stability this month.

Students and Children: The monthly readings for students give off an impression of progress & success for youngsters in February. They are expected to taste success and sparkle on the academic front this month. Youngsters are likely to display a careful & diplomatic approach towards life and their temperament should mostly be pleasing & well-cultured.

Students pursuing advanced education may confront problems after 13th Feb 2018. Confusion is likely to set in regarding the selection of specialization streams. Appearing for Govt. work exams can prove fruitful and success rate is relatively higher during this month. With a positive viewpoint towards studies, focus and concentration are expected to remain positive.

Family and Health: The month of February, however mostly prosperous, signifies signs of deteriorated health for Aries. Your immunity will allow quick recovery from ailments in this period, however, minor issues may repeatedly become a cause of concern. Issues related to blood pressure, skin or urinary infections are more likely to hamper your physical stability. Subsequently, you should remain cautious about these regions of your body and follow a healthy diet. Be watchful when moving on road.

Health Advice - You need to pay additional attention towards your well being in this time. Take all the necessary precautions, and if needed, consult a doctor immediately.

Domestic front may not enjoy the serenity that otherwise prevails. Clashes and petty arguments can disrupt the overall peace on the family front. If needed, call upon the elderly for peaceful mediation.