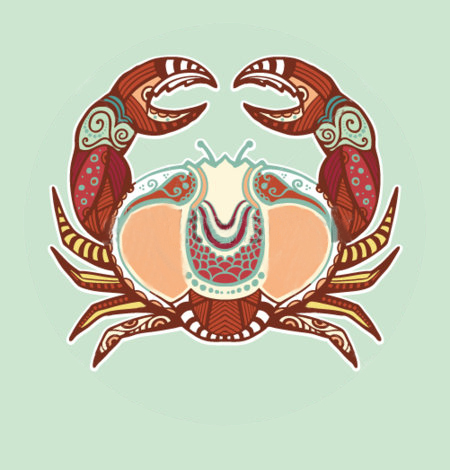 Cancer
(Kataka)
Overview: The monthly horoscope for Cancer brings forth a sluggish picture in February. Mentally, you will remain wise and active in this month. High levels of energy and vitality will allow you to make professional achievements in this time. Nonetheless, developments on the fiscal front may remain limited. Financial profits are expected to remain scanty. Monetary disappointments are possible after 13th Feb 2018. Thus, be careful. Health of a close family member may cause concern in this period. You are capable of handling tough professional ventures within the designated time. Businesspersons are likely to spend towards business associates and partnerships in this phase. Excessive spending is likely after 15th Feb leading to unbalanced funds.

For married couples, the period remains neutral with very few romantic opportunities at hand. Health of spouse is likely to remain unstable in this term, leading to an unsatisfactory physical relation with them. Elevated stamina can often make you temperamental or angry. Keep your behavior in check and if needed, maintain a distance from people under strained conditions to avoid conflicts. Spiritual inclination brings mental serenity and can lead to undertaking of pilgrimage this month. Rejuvenating trips are also possible after 15th Feb.

Career: The monthly forecast for career highlights the start of a professionally stable period for Cancer in February. Jupiter and Mars grace you with strong positions this month, providing for greater solidity in career. You possess strong energy levels in this phase and your bold nature allows you to potentially complete all the projects within the designated period. Your hard work is likely to get you recognition in this period, which may even lead to a rise in pay for you. Occupational changes or relocation should be avoided in this month. Your quick temper can land you in trouble and even turn the tide against you at work. Keeping your anger in check can do wonders for you and take you to greater professional heights.

Thus, implement a diplomatic approach towards sensitive issues. Your tendency to oppose favoritism at work can hamper your relation with colleagues, especially after 15th Feb. Thus, be cautious and try to keep your voice down as far as possible. Your coworkers may not be supportive and might even act against your professional interests during this term. Businesspersons however, are likely to witness a lackluster period where professional benefits are dimly indicated. Extravagant expenses need to be controlled for better financial stability. Your business associates are not likely to shine in this period and will mostly fail to bring in the desired profits.Their impulsive actions can prove detrimental for your work. Hence, take all monetary decisions mutually after due considerations in this month to avoid witnessing financial disappointments.

Career Advice- Keeping your temper in check can prove highly beneficial for you at work. Maintaining a helpful and supportive rapport at work will favor you in the long term and even under strenuous conditions.

Love and Marriage : The monthly readings show an unfavorable term for love and marriage prospects for Cancer amid this period. Lack of understanding is likely to hamper the overall strength of your conjugal relation. Marital life may seem tasteless as scanty romantic ventures seem possible this month. A patient approach towards each other can lead to a better understanding between partners.

Singles are advised to hold their horses and avoid hasty decisions in this period, as this isn't a favorable term for new associations. Difference of choices and opinions is likely to prevail and no potential beginnings can be seen on the cards for you. Progeny prospects may face hindrance this month. Care is advised. Take proper rest and follow a healthy diet plan.

Cash and Finance: The monthly horoscope denotes a financially rough term for Cancer in February. Even if the career front is likely to observe a comparatively more stable period, it does not guarantee fiscal stability. Monetary profits are expected to remain lower after 6th Feb, causing your financial progress to face a dip. Later in the month, your accumulated wealth may decrease lower than expected. The period after 13th Feb demands excessive care to be taken on the monetary front and you are highly advised to stay away from any kind of speculation, gambling or luck based trading during this period. Your assets may decrease in this period of slumber. However, investing in the stock market is likely to pull back some gains and lower your losses to an extent. Practice economic spending as a raised level of expenses are expected to keep the cash flow under stresses conditions.

Students and Children: The monthly forecasts for kids suggests a time of high vitality and accomplishments in February. The period will mostly see children under stable and flourishing health conditions, with energy level and stamina mostly at their peak almost throughout the month. Their immunity is likely to remain good and verbally, they may display wisdom and a well-cultured temperament. However, they may tend to become violent if provoked.

Students pursuing advanced education will mostly perform positively in this period. Their dedication and hard work can reap them the well-deserved appreciation. Nonetheless, their focus might still lack the stability due to the presence of various distracting factors. Parental check and support should help them get back on track.

Family and Health: The monthly readings show a dull picture on the health front. Your own health may suffer under the ill effects of the changing weather. Thus, you are advised to take necessary precautions with your eating and clothing habits. Health of family members might remain under similar conditions, with minor sicknesses moving around from person to person in this month.

Domestic comfort is likely to remain disturbed due to constant quarrels and arguments breaking out between family members. Mutual understanding may be missing and ego tussles are likely to occur.