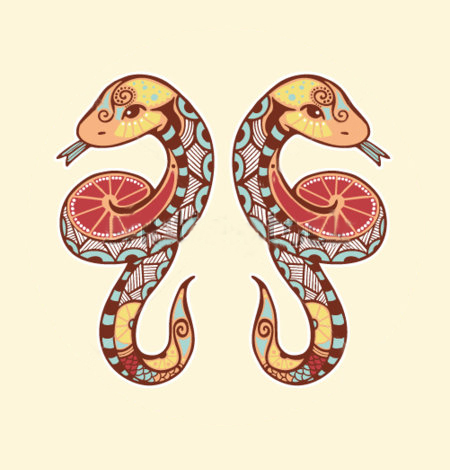 Gemini
(Mithun)
Overview: Gemini, the monthly horoscope for February brings a mixed bag for you. The first few steps into the month appear to keep the health of your family under grey shades. Nonetheless, the later stages counter this and promise a better and healthier domestic front. Your disciplined nature and knowledgeable demeanor makes you outshine your opponents in this time. Expect auspicious times ahead, as a good Raj Yoga is formed after 15th Feb. In this period, your bravery and fearless approach towards life may see a prominent rise. Health of siblings is not brightly denoted until 13th Feb, however, the period that follows should bring relief and signs of flourishing for them.

Your own health may demand some expenditures until 13th Feb and precautions on this front are highly advised. For kids, the month implies bright minds with low physical energy levels. An increased spiritual slant may see you undertaking journeys for the same. Some short ventures might be embraced after 13th Feb 2018, for Govt. related work. Professional stability remains solid in this period. Your competitors are likely to remain active towards spoiling your efforts. Thus, stay alert and on your toes to enjoy success in all ventures.

Career: The monthly predictions for vocation highlight professional stability in February. Your career prospects should mostly move as expected and planned. Your insights and hard work get you noticed by the right people and may get you the well-deserved appreciation. Jealousy is likely to brew among your coworkers. Some hindrances can be expected from them after 13th Feb. Supervisor and boss remain on favorable terms with you this month. You do not favor biases at work but be diplomatic and avoid using a harsh tone as it can act against you. You will work eagerly and to the best of your capacity. In any case, don't exert yourself beyond your limits as it will take a toll on your health. An occupational change isn't advised in this phase, and neither is it denoted for now. A rise in pay for you may happen amid this period.

For businesspersons, the period after 15th Feb 2018 is particularly favorable with good profits and fiscal gains denoted. Business accomplices would prove to be proficient, insightful and creative. Their disciplined and well-planned actions are likely to produce juicy results and bring in the desired profits.

Career Advice- Choose your words carefully. A diplomatic approach can take you far professionally but an impulsive and uncontrolled speech will ruin your picture at work.

Love and Marriage: The monthly indications for love and marriage display a joyful period in February. Conjugal understanding is likely to remain stable in this phase as you enjoy a cordial relation with your partner. Plenty of romantic ventures can be undertaken and you can expect to spend a blissful time together.

Singles may also experience favorable opportunities and can indulge in watering of new beginnings for potential future prospects. Overall satisfaction is expected. This period is also favorable for progeny prospects and things should mostly run smoothly. Still, proper care should not be neglected.

Money and Finance: The monthly readings for Gemini show an unclear picture for the financial front. Financial matters may not see much success. Monetary profits if any, can be lost due to carelessness or hasty actions. Chances of getting involved in legal issues is also present, which can further lead to unnecessary expenses. Profits and gains are dimly denoted, and accumulated funds can see a decline this month. Keep a check on wasteful spending. All financial decisions must be carefully measured and analyzed before finalizing. Expenses are likely to rise. Income is expected to remain in an unbalanced state in this month.

Students and Children: For students, February horoscope implies a period commitment and dedication. Their wisdom may stay at its peak. Notwithstanding, children's well being may stay in a questionable state until 6th Feb 2018. As such, an irritable state of mind can lead them to adopt an aggressive tone of speech. The period after 6th Feb will bring relief, but till then, be diplomatic in your approach and do not provoke them unnecessarily. Students pursuing advanced education will observe an increase in their learning capabilities. Nonetheless, matters of love and romance may interest them more, causing distractions from the path to a successful career. Parental check should help them get back on track. After 15th Feb, they may observe improved focus and with sheer hard work, they are likely to taste success in most of the academic ventures.

Family and Health: The monthly forecast isn't exactly favorable for the family front. Your own particular well being will be in condition of weakening till15 Feb 2018. Stay alert and cautious in this direction. Appropriate care and rest is required. Domestic atmosphere might be to some degree troublesome because of the unfavorable impacts of Saturn. Parents may have to face seasonal sickness and they ought to get legitimate rest and if needed, medical help. The period till 15th Feb may see such unfavorable health conditions on the family front. After that, improvements can be expected.