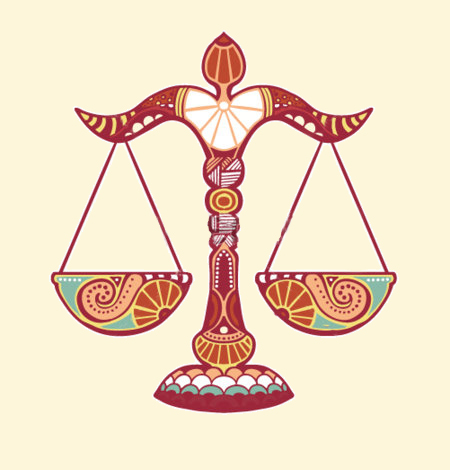 Libra
(Tula)
Overview: The monthly horoscope for Libra brings promise of a prosperous period ahead in February. Acquiring of luxuries and comforts is broadly indicated in this term. After 13th Feb, financial status is likely to see a rise with plenty of fiscal gain on the horizon for you. However, the period is unfavorable in terms of luck, and profits will only follow the level of dedication and hard work that you are willing to put in. You are an insightful,and wise individual with a charismatic personality that is expected to mesmerize people of all fields. Nevertheless, keep your tone and speech in check. A harsh verbal approach can prove detrimental for your stature. Pay additional attention towards your mother's health in this period as she may be prone to seasonal illness.

The celestial powers enable you to be more creative and artistic in this phase, and you are likely to develop your own new ways to fulfill the tasks at hand. Entertainment will be your key interest in this phase. Accumulation of liquid assets is likely for you this month and savings are expected to rise. Success in monetary matters is highly denoted. With an ascent on the spiritual side, pilgrimage can be undertaken for religious purposes. The span till 15th Feb is also favorable for business trips as outings in this term are almost certain to rope in monetary benefits.

Career: As per the monthly forecasts, the picture of career front looks hazy for Libra in February. Though a financially stable term is proposed, atmosphere at the work place may not offer the same comfort on the professional level. The period till 13th Feb is especially unfavorable, with an uncomfortable environment causing uneasiness. Professional relations with superiors and boss are not seen to be cordial. Lack of mental serenity is indicated. The span after 13th Feb might bring some relief with a possible appraisal or additional benefits coming your way. The month is not favorable for accepting new projects or ventures. Business holders are expected to experience comparable patterns in business. The second half of the month may prove beneficial with gains and profits coming in from various directions, if not all. Business associates are likely to prove their mettle this month by pulling in fiscal rewards using their skill and diplomacy. This would boost your funds.

Career Advice - The month of February is only mediocre for your career. Take a patient approach and deal with sensitive matters carefully, with diplomacy. This phase may only be temporary and is expected to soon be followed by better time.

Love and Marriage: The monthly forecast for love and marriage highlights a blissful period for Libra in February. You can expect a relation filled with romance and understanding in this phase. The bond you share with your spouse is strong and filled with unwavering trust. Nonetheless, the sensitive harmony can be disturbed if a harsh tone is used. Keep your approach soothing and words in check for greater conjugal stability. Romantic flares may be present in abundance throughout the month. Singles may enjoy similar favorable prospects in this time, with plenty of opportunities of new romantic beginnings, which seem to be on the cards for you. With an adjustable and understanding nature, you can expect a good personal relation to bloom this month. Progeny prospects are not so bright. Stay alert and follow the necessary precautions.

Money and Finance: The monthly readings point towards a financially successful period in February for Libra. After 13th Feb, monetary matters will mostly be in your favor. Calculated investments made in this term are likely to bear positive results and overall prosperity is expected to rise this month. Expenses towards professional as well as domestic front are indicated. Entertainment will drain a part of your funds as well. Nonetheless, the month will see you in a financially stable and happy state. Cash flow is expected to remain good despite an increased level of expenses.

Students and Children: The monthly horoscope demonstrates a time of development and accomplishments for children in February. Displaying a wise and charming temperament, they are likely to gain worldly knowledge in this period. They may feel a little under the weather, but by Jupiter's grace, the effects should only be minor, and they may see quick recovery.

Students pursuing advanced studies will experience the grace of Jupiter in this phase, as they are likely to outshine their competitors in almost all the exams. Their ability to grasp and gather knowledge is likely to reach new heights. Their concentration level will mostly be good, resulting in admirable academic results. Minor distractions can be expected to crawl in. Disciplinary actions from parents can help them get back on track.

Family and Health: The monthly forecast for family and health depicts an unstable span in February. Ailments linked to private parts are likely to trouble causing concern for you and possibly for your spouse as well. An increased intake of fluids can help in the given situation. Consume healthy food and follow a hygienic lifestyle to avoid any major damage.

Domestic harmony seems missing this month. Frequent quarrels between family members are likely. Lack of understanding can lead to arguments. Patience is advised when dealing with family members.