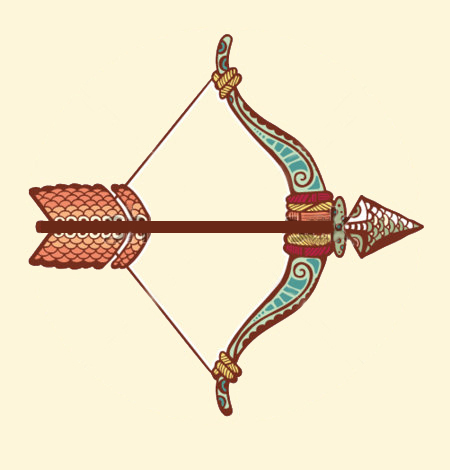 Sagittarius
(Dhanus)
Overview: The monthly horoscope for Sagittarius points towards a financially satisfying period in February. Formation of a good "Dhana Yoga" till15th Feb 2018 will most likely favor growth in profits and gains for you. However, the time may also see a hike in your expenditures. The cosmic powers ensure that after 13th Feb, fate be in your favor. This term, however may see lowered health stability for your spouse. Hence, remain careful towards the same. If in business, this month promises an expansion in business with the help of business associates. Your partners may bring in additional profits this month, thus proving beneficial for your funds. Your methods of carrying out professional decisions may remain helpful in drawing monetary success after 15th Feb.

Keep a check on the lavish expenses as they can lead to fiscal disappointments and loss of gains, thus reducing your accumulated wealth. Issues in your lower body like pain in thighs and lower back can keep your health under questionable conditions in this period. You will be hard working and dedicated towards work. You are likely to display wisdom and acquire greater knowledge this month. A pilgrimage is possible after 13th Feb.

Career: The monthly indications for career show a variable period for Sagittarius. Till 15th Feb 2018, professional aspects look favorable with a comfortable working atmosphere denoted for you at work. The term that follows, however, appears to bring a turn of events for you professionally. Presence of Saturn in your chart may adversely affect your work pursuits. The association with seniors is likely to take a hit in this period. Coworkers are expected to remain unsupportive and against you at work. A change in job can be considered, and moving to a place away from you birthplace can particularly reap beneficial results for you. A rise in pay is possible before15th Feb 2018 yet lack of mental peace can't be ignored. New ventures ought to be stayed away from at this stage. Businesspersons may observe improved condition of funds and profits. Relation with business partner may vary from time to time. Nonetheless, their unique approach towards your business is likely to profit you significantly.

Career Advice- The presence of Saturn can hinder your professional growth till 15th Feb, nonetheless this is just a temporary phase. Carefully measure all professional decisions before final execution. Likewise, business holders need to be more careful after 15th Feb. A diplomatic approach in professional relations will be helpful in developing and maintaining long term relations.

Love and Marriage: The forecasts for love and marriage demonstrate a dull time for Sagittarius in February. The astronomical changes may not allow for any romantic outings in this period. Well being of your life partner may not be to the fullest till15th Feb 2018 after which, betterment is likely. Frivolous quarrels and clash of opinion may dampen your connection. Lack of understanding and absence of romance may rule your love charts this month. Progeny prospects are not brightly depicted. Care and precaution is advised. For singles, the deficit of understanding and patience between partners will lead to an unsatisfactory term for new relations.

Money and Finance: Sagittarius, the monthly forecasts bring signs of growth and flourishing on the financial front in February. Possibilities of earning healthy profits are high this month. However, holding onto your gains might need tact and hard work. This period is especially favorable for monetary benefits for you. On the other hand, your extravagant spending may not let you fully enjoy the taste of your earnings. Chances of experiencing a pilgrimage in this term are high, causing a dent on your savings. This month is likely to see a rise in expenses and the term is not favorable for any kind of investments or speculation. Expenses towards family and entertainment are also likely. Overall, the flow of funds is expected to remain positive. Nonetheless, a careful and strategic approach is needed towards spendings to maintain financial stability.

Students and Children: The period of February points towards advancement for kids. Children will possess good mental intellect and are likely to gain greater knowledge in this period. They may display a pleasing demeanor and their speech is likely to be diplomatic. Health of children, however, will demand your attention as they may feel under the weather with changing seasons.

Students pursuing advanced education will see a brilliant period and are likely to come out victorious in most of their academic ventures. The cosmic powers favor them completely in this term, allowing for greater focus level and enhanced learning capabilities. Their outlook towards studies will mostly be positive, and are expected to become worldly wise during this phase.

Family and Health: For family and health, the monthly readings indicate a sluggish period in February. Your personal health is likely to remain affected this month, with minor ailments doing frequent rounds to keep you on reduced energy levels. By the end of the month, stability is expected to surface. Health of family members may see a similar pattern in this phase.

Health Advice: Do not overexert yourself. Take proper rest and follow a healthy diet plan in this period. Exercising regularly and drinking plenty of water should help you regain the vital levels.

Domestic environment may remain only average. Mutual understanding and patience is advised, as indications of frequent arguments and clashes are present on the cards. Treat family members with respect.